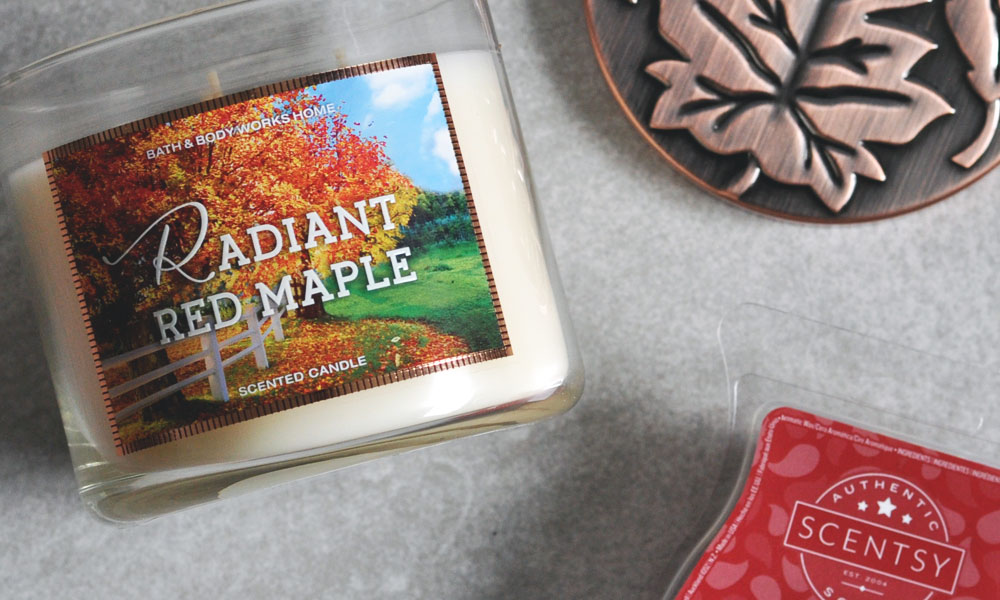 If you are candle crazy like myself, you already know that Bath & Body Works has begun testing their Fall collections. We all know that BBW is notorious for not re-releasing fan favorites so I'm ecstatic to see Cider Lane, Pumpkin Spiced Cheesecake, and Pumpkin Pie returning. However, my absolute favorite Fall candle, Radiant Red Maple, has not made a reappearance. With only one backup remaining, I became desperate to find something similar.
Radiant Red Maple is one of those scents you either love or hate – I happen to be obsessed with it. If you never had the chance to sniff it last year, it smells like delicious fresh apples mixed with toasted marshmallow. It is definitely a unique combination but heavenly. If you are a fan of Marshmallow Fireside, then chances are you'd adore this fragrance too.
Before you get too upset that RRM isn't returning, let me let you in on a little secret; I discovered a dupe from Scentsy! Their version of this amazing fragrance is called Apple S'mores and it is almost exactly identical. You get the same apple & marshmallow combination but there is a tad less smokiness. If I wasn't smelling these two scents side by side I never would have detected any difference.
I thank the candle gods that I was able to find a comparable option to Radiant Red Maple. If you were a fan like myself, you can definitely get your fix with Apple S'mores. I have already stocked up on enough wax melts and room spray to last me 2 years just in case Scentsy retires their fragrance too! 😉 What is your favorite Fall fragrance? Share your thoughts in the comments!