Within the last couple of weeks there have been several new collections at Bath & Body Works causing a lot of excitement. However, it's not candles that are catching my eye in the newest Perfect Summer collection. For once I'm more interested in the hand soaps, body care, and hand sanitizers! Using an array of coupons with several transactions, here is what I've hauled.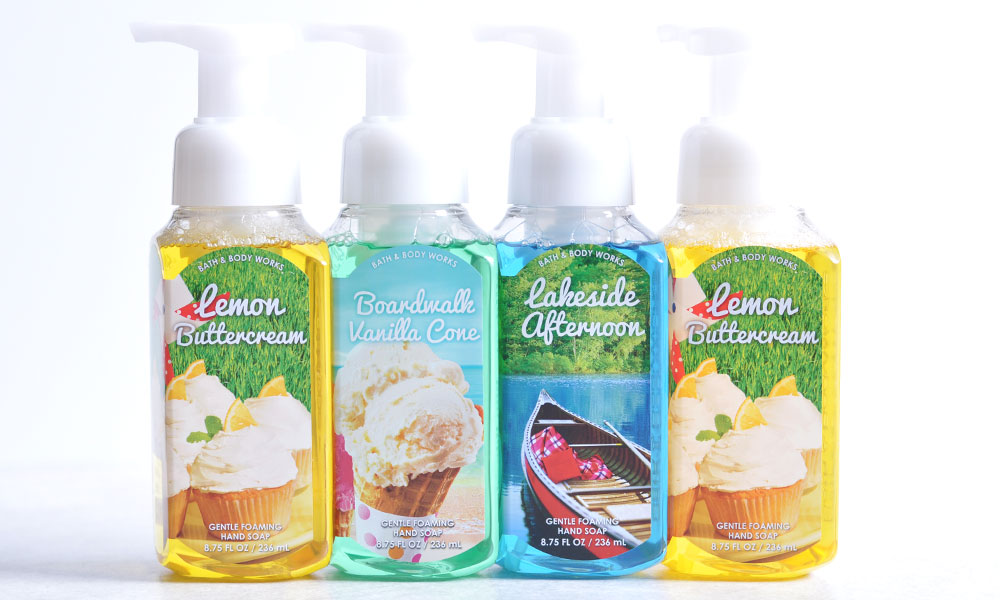 The Perfect Summer hand soap collection might be my favorite of 2016 thus far. Lemon Buttercream is a beautiful bakery lemon scent that will be amazing for next Spring. Lakeside Afternoon is a nice fresh scent perfect for Spring/Summer in the kitchen. Finally Boardwalk Vanilla Cone is a delicious scent that smells exactly like creamy vanilla ice cream inside of a waffle cone. I have stocked up quite a few back ups of these scents as they've quickly become new favorites.
I normally don't purchase too many of the BBW accessories, but I couldn't pass up the little sharks and the ice cream cone shower pouf! Seriously, look at the sponge sprinkles! I also am not usually the biggest fan of their pocket bacs due to the residue they leave behind, but these fragrances smell exactly like the soaps. Then finally we've got Beach Nights Summer Marshmallow body care. Holy crap. I am IN LOVE. To me, this smells like a dupe of Goose Creek's Peanut Butter Sugar fragrance and I can't get enough. I may have 3 body cream back-ups already…
Before I knew how much I was going to love the rest of the Perfect Summer collection, I was mostly excited for these wallflowers. Funnel Cake smells like greasy fried fair food and I'm kind of obsessed. I really wish they had this in candle form – it is definitely different than Cinnamon Sugar Donut. Also, for some reason I am not a fan of the Pomegrante Lemonade 3-wick but really enjoyed how the wallflower smelled. Looking forward to seeing how these two fragrances warm up.
Last but not least, I did pick up some candles. Big surprise there, right? For some reason BBW released a small Fall preview at the same time as the Perfect Summer collection's release. With these "new" scents being on sale, I picked up a couple of the beloved Pumpkin Spiced Cheesecake which is a favorite of mine. Then I FINALLY decided to pick up my very first Cinnamon Sugared Doughnut candle ever. I'm not sure why this has never interested me in the past but I think it's time to give it a try.
I think it's safe to say I've got an addition to BBW and I'm not even ashamed. Between new soap, body lotion, pocket bacs, shark accessories, and a couple candles my house is in desperate need of some organization. At least everything smells great though! 😉 I'm absolutely putting myself on a BBW ban until the Fall items are released in August. Have you fallen in love with anything in the Perfect Summer collection? Share in the comments below!