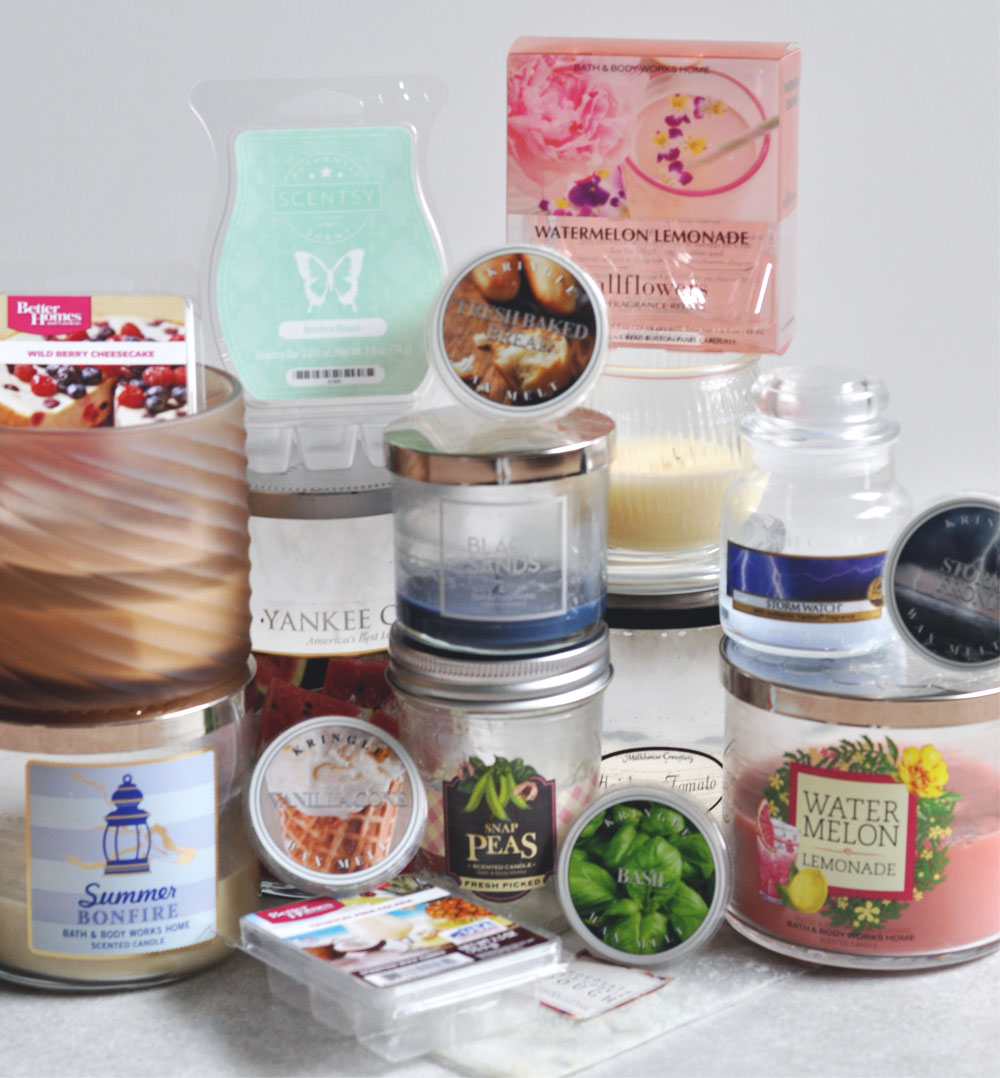 Where did July go?! While this entire year seems to be moving at warp speed, this past month really went by in the blink of an eye. Rhode Island was abnormally hot these past few weeks, but I was still able to go through my entire burn list and then some. Here is my complete list of empties:
Storm Watch (1-wick) – I really enjoyed this fresh scent! Imagine walking outside after a rain storm in the Summer – this is what Storm Watch smells like! I have already purchased a large jar since this is now a retired fragrance.
Watermelon Lemonade (3-wick) – By this point, we know what this sweet candied watermelon scent smells like; it's only been re-packaged about 50 times. The burn on this version was great until the 1/2 way mark, then it got PWS and went straight on the melter.
Suntan (3-wick) – This smells exactly like Yankee Candle's Sun & Sand. Otherwise known as traditional sunscreen. The burn life on this candle was impeccable; the best I've had in over a year! Too bad the throw was only a 5. If this scent wasn't on sale for $6 I wouldn't have picked it up.
Juicy Watermelon (2-wick) – If you know what a watermelon flavored Jolly Rancher tastes like, then you know what this candle smells like. I was very impressed with the burn life of this Yankee Candle and it even had a throw of about a 5. It started lightly sooting towards the end so I finished it on the warmer.
Summer Bonfire (3-wick) – I did a full review of this scent earlier in the month so all I'll say is that this is an amazing fragrance to burn during the Summer. If BBW ever brought this back I would absolutely pick it up again.
Heirloom Tomato (2-wick) – This smelled EXACTLY like a vegetable garden growing in the Summer with notes of fresh tomatoes; this was very reminiscent for me. If the throw had been stronger than a 4 I would have picked up another. I'm excited to repurpose this jar though!
Snap Peas (1-wick) – If you are not a fresh scent person like myself, this is the perfect in-between. Snap Peas from BBW was both sweet and garden fresh making it the perfect Summer scent. I hope they release this again in the future because I will hoard it!
Black Sands (1-wick) – This scent from BBW was cologne meets aquatic; it smelled like a freshly showered man during the Summer. It took very long to pool out and had a throw of about 4. Tbh, if I hadn't picked up this tester candle for $2.50 I would never have given this fragrance a try.
Krispy Kreme Original Glazed (1-wick) – This candle was SO light both on cold and when melting that I could hardly review it. What I could pick up on was a cheap knock-off of BBW Cinnamon Sugar Donut. For $1 from Dollar Tree I got what I paid for and would not recommend.
Tropical Pina Colada (wax melt) – Wow, this was a deliciously strong fragrance! It smelled EXACTLY like a pina colada and it definitely made me thirsty 😉 it was so good I actually burned through it in less than a week.
Wild Berry Cheesecake (wax melt) – The perfect berry scent that has ever been made. I thank the candle gods that this is available at Wal-Mart year-round.
Bonfire Beach (wax melt) – This is a dupe for BBW Summer Bonfire which I also reviewed earlier this month. I am so impressed with the throw of this Scentsy melt and the burn life. I have already hoarded more bars for Summer's to come!
Fresh Baked Bread (wax melt) – This is a lighter scent that smells pretty odd alone. When it's mixed with fresh scents, like Basil, it really blossoms into a delicious fragrance. I do have another melt in my stash ready for an Italian dinner night!
Basil (wax melt) – Kringle really named this melt accurately, it smells 100% like fresh basil. This went wonderfully with the Heirloom Tomato candle and mixed great with the Fresh Baked Bread wax. I have already stocked up a couple more of these too.
Storm Front (wax melt) – I was hoping this would be a dupe for Storm Watch, but it's unfortunately not. It did have that similar freshness but was overpowered by the cologne notes. It performed great in the bedroom (lol) but I wouldn't repurchase.
Vanilla Cone (wax melt) – Why didn't I give this scent a try sooner?! It is the perfect combination of sugary vanilla and a salty waffle cone. It goes perfectly with BBW's Boardwalk Vanilla Cone hand soap and their Summer Marshmallow body lotion. My only wish is that the melt lasted longer. I will definitely repurchase but in a different form.
Chocolate Chip Cookie Dough (wax crumbles) – This scent was just okay and pretty forgettable. It had a sweet note but also a very strong waxy undertone. I will not purchase this or anything else from Wax Crumbles again.
Watermelon Lemonade (wallflower) – Again, by this point we all know what this overdone fragrance smells like. I only got whiffs of these about 1-2 times a week which is a complete disappointment. Additionally the oil barely evaporated. I'm wondering if I need to replace my wallflower plugs – I've only had them for 6 months!
Overall I burned through 9 candles, 8 wax melts, and 2 wallflowers in July. In my opinion, that's pretty impressive! This month was clearly all about the fruity and fresh scents and now I think it's time to move on to some "warmer" options. What did you melt this month and which was your favorite? Share in the comments!