I've never been a big fan of vendor wax, mainly because the first and only company I purchased from didn't impress me. However, when I was watching a Super Tarts haul on Youtube I was pretty intrigued. The different fandom collections really caught my eye; let's be real, anything Harry Potter will catch my eye. I started browsing through their site and eventually decided to just place an order. I ended up hauling 4 Harry Potter and 2 random wax melts.
Butterbeer – "Sweet butterscotch topped with a dollop of sweet cream"
This straight up smells like a creamy butterscotch candy. I've never actually had a legitimate butterbeer so I can't vouch how realistic this wax is. I can tell you that we'll definitively be melting this when we're having Harry Potter movie marathons!

Gryffindor – "Frosted lemon meringue cheesecake with raspberry glaze"
I'm not even a Gryffindor, but this scent sounded delicious. I was unfortunately let down upon smelling it because it just smells like lemons with the slightest hint of raspberry and barely any bakery. I'm crossing my fingers this develops more when warm!
Hedwig – "Chai tea, creamy cheesecake, and clove"
Within the past year I discovered my love for chai tea, so this scent naturally appealed to me. However, it really just smells overwhelmingly of clove with possibly undertones of chai. It really reminds me of a craft store which is unfortunate and I'm praying the cheesecake note will come out when warm.
Umbridge – "Tea & cakes, sugar dusted roses, and cotton candy"
From the sounds of the description I was hoping for a Pink Petal Tea Cake dupe. This really just smells like a rose tea though without any sweet bakery notes. If you've ever drank the Get Gorgeous tea before, this is an exact dupe for it! I'm sure it'll be enjoyable but not what I was looking for.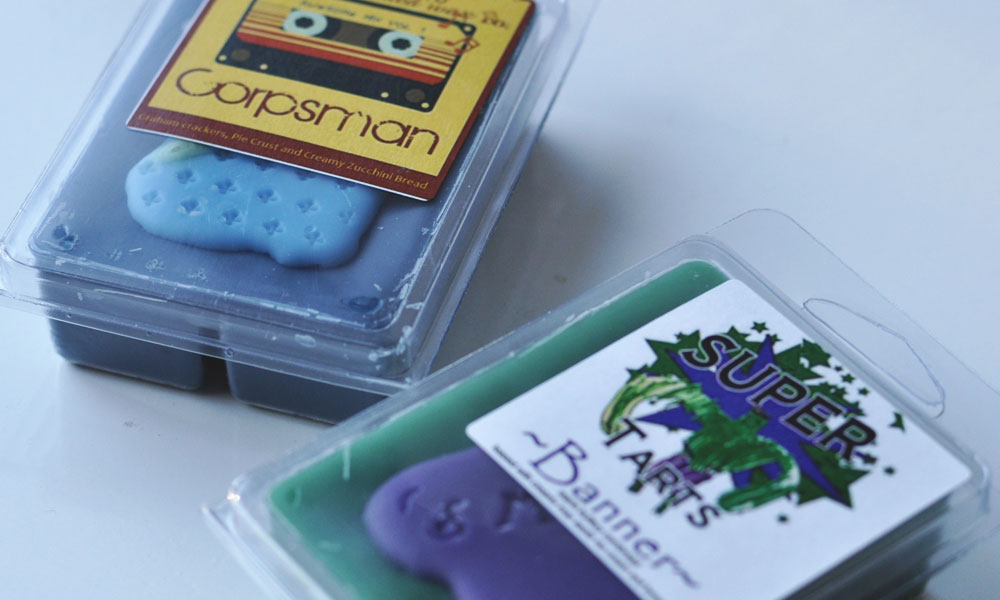 Banner – "Warm buttery cornbread topped with creamy mac apple ice cream and brown sugar"
This is a hands down dupe for BBW Summer Boardwalk! I adore that fragrance but I'm already pretty stocked up on it and don't need another melt in it. I was really hoping for more of the cornbread note.
Corpsman – "Graham crackers, pie crust, and creamy zucchini bread"
We are saving the best for last here. Above everything you get that graham cracker note and then the buttery crust. I'm not exactly sure if I smell any ZB on cold but I'm hoping to be able to distinguish that when warming; I can only imagine it'll make this fragrance better!
While I wasn't overwhelmed by the actual fragrances, I won't pass full judgement until I've melted them. Overall, the company had a fairly quick delivery speed and included a free sample in my bundle too. I do enjoy the design elements that appear on the wax – you can really tell how much time goes into making them. I probably will end up doing another haul once the Harry scent is back in stock and plan on stocking up on my favorite Corpsman fragrance!
Where is your favorite Super Tarts scent? Share in the comments!