Even though February is the shortest month of the year, it felt pretty long to me! Maybe it's because we've been waiting for our official move date or due to the several big snow storms followed by 70 degree weather. No matter the reason, it was an enjoyable burning month for me – I got through 8 candles and 7 wax melts!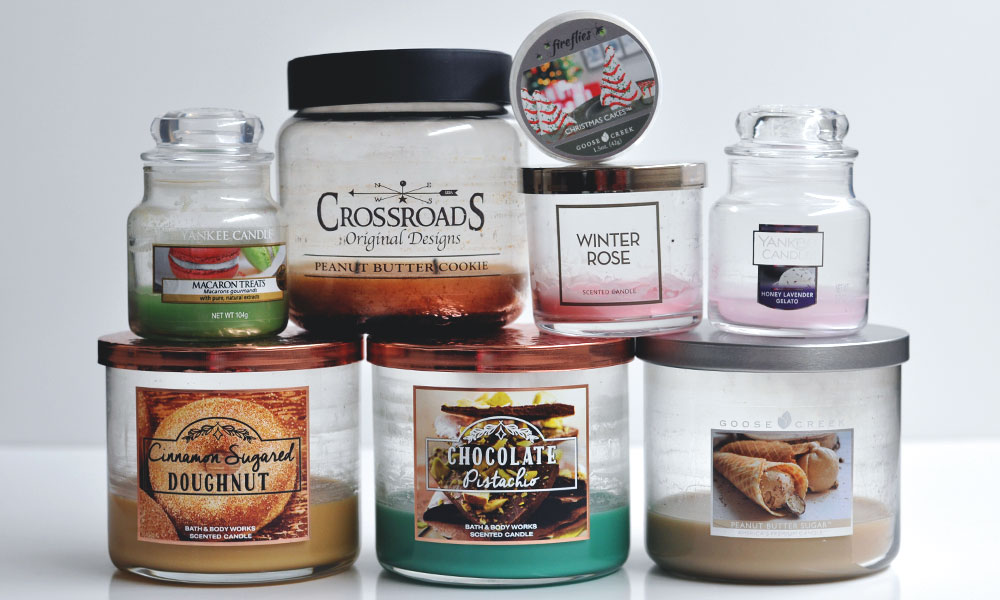 Macaron Treats (1-wick) – This didn't exactly smell like a macaron to me, more like a light almond-vanilla cake. There wasn't an overpowering almond extract note which I really appreciated. It's definitely a gourmand fragrance but unfortunately only threw at about 2 in my small bathroom.
Christmas Cakes (1-wick) – On cold, this truly smelled like the Little Debbie christmas tree cakes. It's pretty much a vanilla and white chocolate combination, also more of a gourmand fragrance than straight up bakery. Unfortunately, there was absolutely 0 throw while burning in my small bathroom.
Peanut Butter Cookie (2-wick) – For any BBW Hot Cocoa & Cream lovers, this is pretty much an exact dupe. Burning this smells like a freshly baked brownie with the slightest undertone of salty peanuts. This was my first Crossroads candle; it threw at a 9 the entire time and burned flawlessly.
Peanut Butter Sugar (3-wick) – An all-time favorite fragrance of mine that I've mentioned often, however this was the first time I burned it in candle form. It was even better than the wax melt and threw at a steady 7 the entire time! Truly an amazing salty, sweet candle for this time of year that I would pick up again without second guessing.
Honey Lavender Gelato (1-wick) – In true Yankee fashion, this was practically unscented. What little I could smell was kind of sour which was disappointing because on cold it's a smooth berry fragrance. I really wanted to love this but won't be picking it up again in any form factor.
Chocolate Pistachio (3-wick) – Wow, this smelled truly amazing. It was all peanut with bottom notes of chocolate and seriously smelled like a Snickers bar. While it threw around a 7 it continuously got PWS, had to be cotton-balled, and struggled to pool out. If BBW brings this back I'll pick it up again but won't stock up because it's a unique scent that I would only burn during February.
Cinnamon Sugared Doughnut (3-wick) – Can you believe that I've never burned CSD before? It's a beautiful blend of bakery dough, a touch of cinnamon, and a slight greasiness. This unfortunately only threw around a 4 or 5 and had thick, chubby wicks. I wasn't impressed with this version but would definitely give a stronger iteration a try.
Winter Rose (1-wick) – I am not a floral person but this fragrance was really nice! It's definitely all rose but had a clean type of scent to it. It took a while to pool out but once it did it threw around an 8. I wouldn't be quick to pick it up again but did enjoy it while it lasted!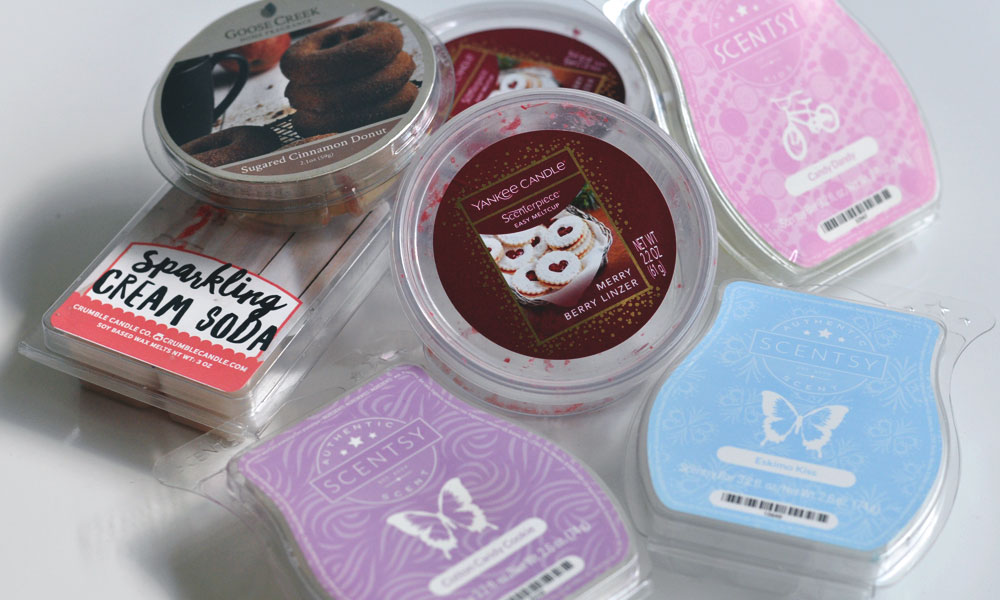 Sparkling Cream Soda – When I first purchased this wax melt in 2016 it was a beautiful bubbly blend of creamy vanilla. However, after a short 4 months this lost 98% of it's scent. It also had glitter mixed into the wax which was terrible to clean out of my dishes. I didn't even bother finishing the entire clamshell.
Merry Berry Linzer (x2) – This was a really sweet bakery scent perfect to melt alongside some of the other chocolate fragrances this month. The top notes were a fruity mixture of raspberry and cherries with a delicious undertone of shortbread cookie. Very happy to have a couple more backups of this!
Eskimo Kiss – This is a really unique fragrance; there is an effervescent fruity note combined with spun sugar. Even though it sounds so obviously sweet it almost has a fresh quality to it too. The combination is just beautiful and this could really be warmed any time of the year. Hoping Scentsy brings this back next Winter!
Cotton Candy Cookie – True to it's name, this was a very strong spun sugar scent with undertones of lemon and raspberry. It really was a delicious fragrance that threw well but lacked a bakery note.
Candy Dandy –  A pretty underwhelming and basic sugar candy fragrance. Think of getting sweethearts, sweet tarts, etc and throwing them all in a bowl and melting it down. Nothing exciting and it barely threw.
Sugared Cinnamon Donut – This was an insanely strong cinnamon vanilla fragrance but lacked a realistic bakery note. It was nice but I don't plan on picking it up again.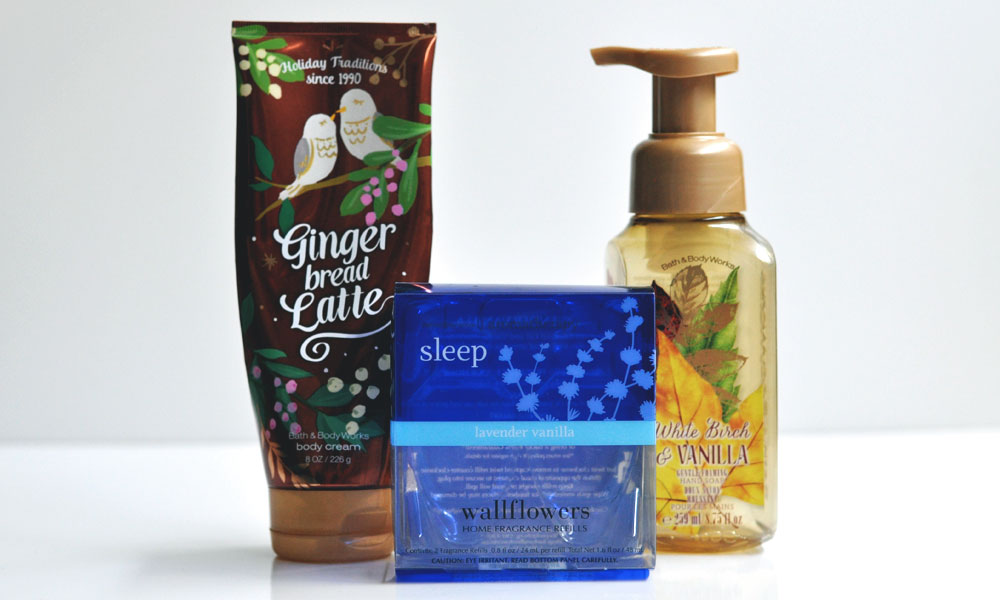 Lavender Vanilla (wallflowers) – I am a big fan of lavender scents when they are done right, unfortunately for BBW this version was just wrong. It's straight up lavender and vanilla essential oil. Combined they are not pleasing and it smells like a mixture of products you'd be using when changing a baby's diaper. Of course, these wallflowers were great throwers too for the first week and then quickly dudded out.
White Birch & Vanilla (hand soap) – I'm usually a seasonal fragrance girl so this was pretty out of the ordinary for me to use since it smelled somewhere in between the Autumn and Leaves candles from BBW. A very nice scent that I still enjoyed even though it was very misplaced for February.
Gingerbread Latte (body cream) – To me, this was more of a delicious sugar cookie scent than BBW's other fan favorite Vanilla Bean Noel. This was absolutely perfect for the holidays and had a hint of nutmeg reminiscing beloved holiday treats.
February was certainly a sweet melting month! My favorite fragrance was probably Chocolate Pistachio which I really wasn't expecting. I was able to melt through everything on my burn list (and then some) and can't wait to get into some transitional Spring scents in March!
What did you burn through in January? Share in the comments below!