December was yet again another month of insanity in my household. Aside from all of our holiday preparations/travels, I was sick for the majority of the month. This led me to having no desire to burn candles or melt wax. With that being said I was able to get through 3 candles and 3 wax melts in this last month of the year!
Chestnut & Clove (3-wick) – I've always had the best luck with this transitional scent in the past, but it didn't perform too great in my open concept house. It was somewhat enjoyable but just didn't stand out.
Marshmallow Fireside (3-wick) – This was hands down the worst version of MF I've ever experienced. It had puny wicks from the very first burn and didn't throw at all, even when placed on the melter. An extreme let down as I look forward to burning it every year in December.
White Mint Latte (3-wick) – A surprisingly incredible candle all around! You really got whiffs of cocoa, mint, and coffee. Not only that but the burn was flawless and it threw all the way to the second floor of my house. Finally a hit for BBW!
Marshmallow Candy Cane – I'm not the biggest peppermint fan but this fragrance was fantastic! It had the perfect combination of peppermint and vanilla and performed beautifully.
Cozy Chai – An incredibly strong, spicy scent perfect for cozying up during the holiday. Next time I place a Scentsy order, I'll probably pick up a couple more bars.
Rum Raisin Cookie – I stand by what I said last year – this smells like a freshly baked raisin cookie with an undertone of rum extract. It's very enjoyable however Scentsy unfortunately discontinued the fragrance.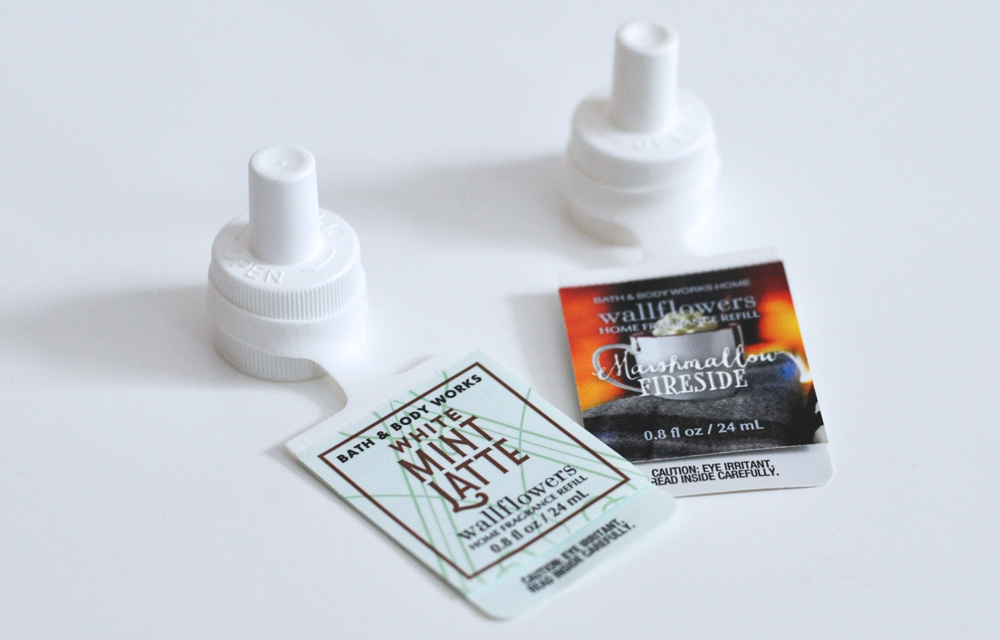 Marshmallow Fireside (wallflower) – This was a very old wallflower and quite strange as it only threw in one spot far away and not in it's immediate surrounding. When I could smell it, I did enjoy it.
White Mint Latte (wallflower) – The throw on this wallflower threw great! For the first 24 hours. Then it was non-existent, aka a total waste of money.
I was pretty bummed that I didn't have the chance to burn through more of my stash as December is one of my favorite times of the year for fragrances. I did have an enjoyable holiday though and hope you all did too!
---
Moving into 2018, I plan on restructuring my empty posts as they tend to be a bit wordy. Is there anything you would definitely like to see included or not included going forward? Share in the comments!