While November was a slower burning month, I certainly made up for it in December! I unfortunately was home sick for half of the month giving me much more time burn candles! (Priorities, right?) At this point I'm traveling for the remainder of the year and won't be melting much of anything else. I tried to stay with a festive theme throughout December and ended up burning 12 candles and 12 wax melts!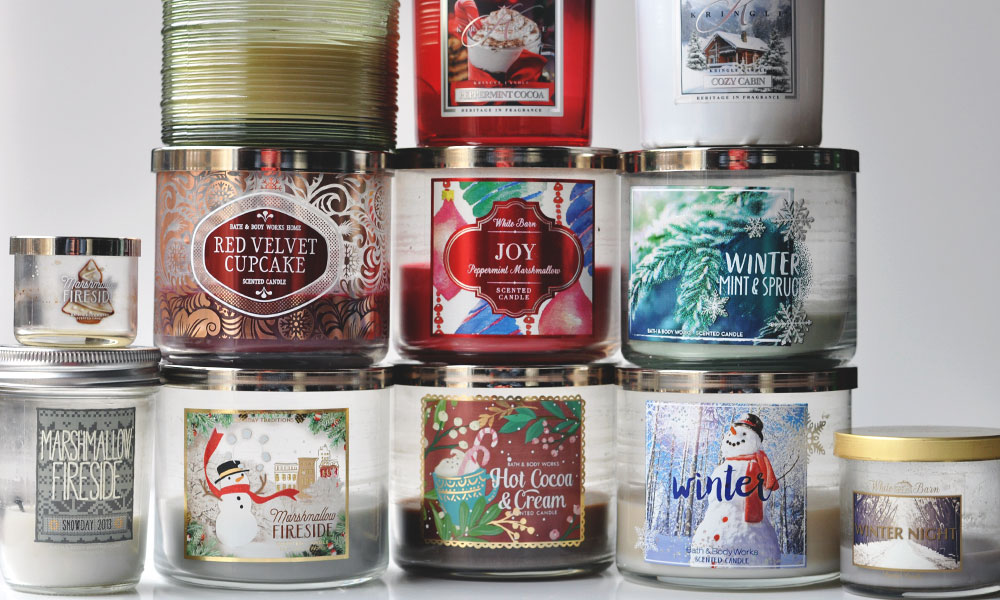 Marshmallow Fireside (3-wick & 1-wick) – I always kick off December with this classic scent. It's both sweet and smoky creating a cozy atmosphere perfect for this time of year. If I didn't have so many other candles to go through I would probably just burn this all month long. The 3-wick performed great until the last third and the 1-wick's barely threw at all.
Cozy Cabin (1-wick) – This is Kringle's version of MF but the smoky note is more detectable than the sweet. It would've been enjoyable if I could even smell it burning. It had a throw of about 2 when I was standing over it. Yet another disappointment from that company.
Peppermint Marshmallow (3-wick) – I think this is my favorite peppermint scent to burn during this season. Have you ever had a thin peppermint cocoa crisp cookie? That's the best way to describe this, it smells like a crisp you've just broken in half. The marshmallow note in the name is more of sweet cocoa rather than true marshmallow. Either way it's a delicious fragrance with decent throw!
Red Velvet Cupcake (3-wick) – Another favorite fragrance to burn during the month, especially while baking Christmas cookies! It's a rich chocolate fragrance that throws around a 8. While amazing it can become overpowering fairly quick.
Winter Mint & Spruce (3-wick) – This was a spur of the moment purchase during the 8.50 candle sale. If there wasn't that woodsy spruce bottom note, it would've probably smelled like toothpaste. I burned this in the mornings and while cleaning. It threw around an 8 and had a gorgeous wax color. While I enjoyed it I probably wouldn't repurchase.
Peppermint Cocoa (1-wick) – I was absolutley obsessed with this Kringle fragrance on cold – it smelled like an Andes thin mint chocolate. However, when burning the peppermint and cocoa notes didn't mix well together. OF COURSE this was the one candle from the company that threw around a 5.
Winter Night (1-wick) – This is a throwback fragrance from at least 3 years ago that I needed to de-stash. It didn't have a great throw (possibly because it's old) and smells almost identical to Winter. There is the slightest hint of smokiness thrown in and possibly another woodsy note. I'm not really surprised this hasn't made a comeback.
Hot Cocoa & Cream (3-wick) – The infamous new scent of the season! It smells exactly hot cocoa mix on cold but freshly baked brownies out of the oven when burning. It throws around an 8 and burned great. I really enjoy it and have already stocked up – this is really the only true chocolate candle I have in my collection!
Smoked Vanilla (3-wick) – This is really a unique fragrance! At first you might think it's just a repackage of MF but there is definitely much more smokiness. The smokiness also has an underlying note of bacon which is not a bad thing. Any vanilla in this candle is at the bottom and very subtle. It's an absolutely wonderful fragrance to burn on winter morning's and throws around a 7.
Winter (3-wick) – Another BBW classic! This is the only true outdoorsy fragrance I burn throughout the season and always light it up closer to Christmas. It truly smells like going outside during a fresh snowfall – it even makes my nose feel a bit cold! It throws around a 9 and will forever be a repurchase.
Merry Mint (DNF 1-wick) – On cold, this was the perfect creamy mint chocolate scent. Too bad it had absolutely 0 throw the handful of times I burned it and then smelling it on cold just smelled like burnt wax. I did not finish this terrible candle and am donating it to goodwill. Crossing my fingers that the other pure radiance candles do better than this one!
Santa's Cookie Crumble – One of my last fragrance from Crossroads and it wasn't too bad. It smelled almost exactly like BBW Cinnamon Sugared Donut without the greasiness. It's not exactly what I associate with holiday cookies but enjoyable nonetheless.
Campfire Marshmallow – Goose Creek's version of MF with a hint of toastiness. Enjoyable and would potentially repurchase closer to the holiday season next year.
Cozy Cabin – This smelled exactly like the candle already described but I could actually smell this while it lasted. Kringle's melts don't tend to last longer than 6-8 hours and are only worth it on a good deal.
Peppermint Cocoa – Again, this smelled exactly like the candle and wasn't enjoyable due to the astringent fragrance when warm. I melted the 2 that I had on hand to get rid of them.
Milk & Cookies – Now this was a nice surprise from Yankee! It's very comparable to CSD but with much more creaminess. It really was delicious and I went through the 3 tarts I had in stock. If they ever release this in candle form again I'll probably pick it up.
Candy Cane Lane – Another peppermint fragrance I adore on cold but wasn't the biggest fan of while melting. This is just straight up peppermint and I think you really need to be in the mood for it. I still have a full large jar in my collection and have a feeling it will take a while to burn through in the coming years.
First Snow – This is Kringle's version of Winter but with a hint more citrus and was quite nice. Not the strongest wax melt and I'll probably just stick to the classic BBW scent going forward.
Eggnog – Scentsy nailed this fragrance, it smells EXACTLY like eggnog. However, it only smells like this for 2-3 hours and they just smells like candy before it doesn't have any oils left at all. Even though this is the biggest let down burn-wise from Scentsy, it's still wonderful while it lasts.
Rum Raisin Cookie – Another fragrance that Scentsy nailed. It truly smells like a freshly baked raisin cookie with an undertone of rum extract. It's delicious and perfect for the holiday season! I highly recommend giving it a try when you're placing your next order!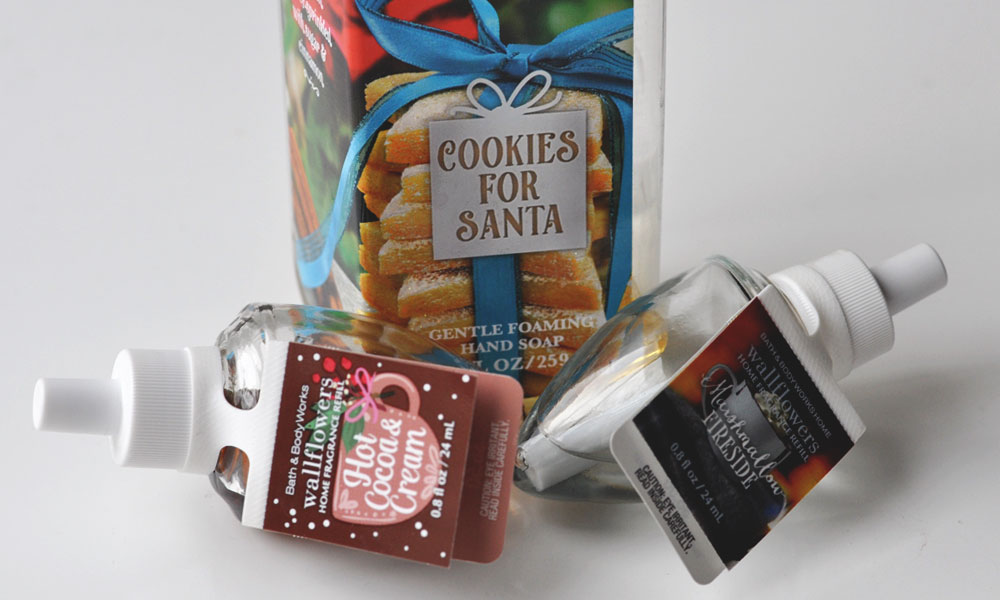 Cookies for Santa (soap) – This was a very sweet & sugary fragrance but didn't smell like any cookies I've ever baked or had. It was nice but nothing to go crazy for.
Marshmallow Fireside (wallflower) – I was only able to get whiffs of this throughout the month which was disappointing since it's an all-time favorite fragrance of mine. I'll continue to try the scent in this form every year though.
Hot Cocoa & Cream (wallflower) – This had the same effect while warming and smelled like freshly baked brownies. It's an odd fragrance to have as a wallflower but luckily it didn't throw much after the first week.
I really enjoyed the sweet scents filling my home throughout December and I really can't choose a favorite! I'll be narrowing down my favorites of the entire year later this week in my 2016 recap, but in the meantime tell me what you burned through this month in the comments below!