April was a crazy busy month because we FINALLY moved! Between packing everything up, moving it all, and trying to start unpacking I didn't have too much time to focus on my melting life. With that in mind, I was able to get through 3 candles and 11 wax melts.
Sugared Lemon Zest (3-wick) – This is a dupe for the BBW staple Limoncello which is a basic sugared lemon fragrance. Surprisingly this is the first time I've tried it out and honestly wasn't too impressed. It's a nice scent that had a decent throw but even with the sweetness it smelled a bit too much like cleaner for me. I'll pass on variations in the future.
Key Lime pie (3-wick) – Wow, this candle was incredible and absolutely lived up to the hype! I was crazy about the sweet bakery lime fragrance on cold and it didn't disappoint when burning either. Flawless burn and threw around an 8. I got a few more stashed away for coming years and highly recommend getting your hands on this at Kohl's before they're gone for good!
Lemon Pound Cake (1-wick, DNF) – On cold, this was the perfect bakery lemon fragrance! Unfortunately the burn was so bad and there was 0 throw so I decided to just DNF the candle. I have one more candle in my collection from Our Own Candle Company that I'll be giving a try this summer and I'm crossing my fingers for better results!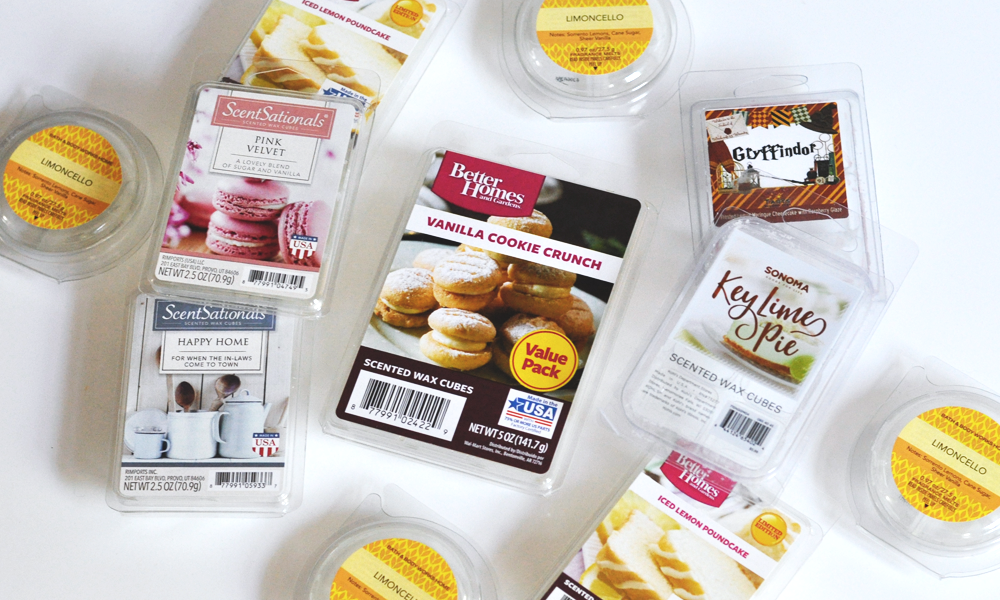 Pink Velvet – I clearly couldn't get enough of this sugary citrus scent last month and melted through another clamshell. I'll always want to repurchase this and have a few more stocked up in case they discontinue it!
Gryffindor – On cold this just smelled like another basic lemon fragrance, but upon melting more of the raspberry that is promised comes out. I enjoyed it while it lasted but just wasn't crazy about it.
Limoncello (x4) – This smelled exactly like the Sugared Lemon Zest candle and helped amp it up while burning. Again, it smelled too much like cleaner for me and I just wanted to get through my stash.
Iced Lemon Poundcake (x2) – My absolute favorite lemon fragrance on the market! I love mixing this with Vanilla Cookie Crunch and filling my home with the most delicious lemon bakery scent. Now that I've tried a few other lemon scents, I can tell you this is all I want to focus on in years to come. Will be stocking up since it's a limited edition!
Vanilla Cookie Crunch – A beautiful bakery fragrance amazing on it's own or mixed with just about anything. I only buy the bulk packs and this is the second clamshell I've gone through this year. I always have more stocked up too!
Key Lime Pie – This is a perfect example of Kohl's quality – the candle in this fragrance was outstanding but the melt just smelled like lime crayons. It wasn't appealing in the least bit and had to be mixed with VCC. Would not recommend trying this form, just stick to the candle!
Happy Home – If you're a fan of lemon-lime scents, this is a great option for you. It turns out I'm not crazy about the combination and just quickly melted through this clamshell. It also had a strong waxy note that sometimes overpowered the actual fragrance. Definitely won't be picking this up ever again.
Tea & Lemon (wallflower) – Slightly sweetened tea with a hint of lemon juice make this great fragrance. It unfortunately didn't perform as well as past years but I still enjoyed it when I got whiffs. If BBW brings this back I'll stock-up!
Cotton Candy (hand soap) – A basic sweet fragrance perfect for spring, but didn't linger at all after washing your hands which was a disappointment. Not sure I'll go out of my way to pick up this Easter soap again in the future if the quality doesn't improve.
I think it's safe to say that when things get busy I tend to melt more than burn. The lemon-lime theme was quite enjoyable and my hands-down favorite of the month was Key Lime Pie from Kohl's. I probably won't have time to post a burn list for May, but I'm going to try focusing on berry fragrances and can't wait to share everything with you when time permits!
What did you burn through in April? Share in the comments!