Hey, fellow melters! I hope the weather has been better where you live lately; in RI it's been almost 100 degrees with extremely high humidity. It's safe to say that I'm craving the cooler Fall days at this point. (FYI Dunkin Donuts is releasing their pumpkin spice drinks & treats today so we are one step closer to Autumn!) Luckily, this past weekend our favorite two candle retailers had some really great deals going on which gave me the perfect reason to start stocking up on Fall home fragrances!
The first stop was Yankee Candle's friends and family sale where everything (except accessories) was 50% off. I ended up picking up a medium jar of Olive Oil & Thyme, a medium pure radiance jar of Autumn Air, a small jar of Cranberry Chutney, and a new pumpkin shaped illumi-lid. PSA – Autumn Air is almost an exact dupe of Radiant Red Maple! Also, I couldn't believe how much fragrance oil was dripping from the Cranberry Chutney. All together this purchase came to $35!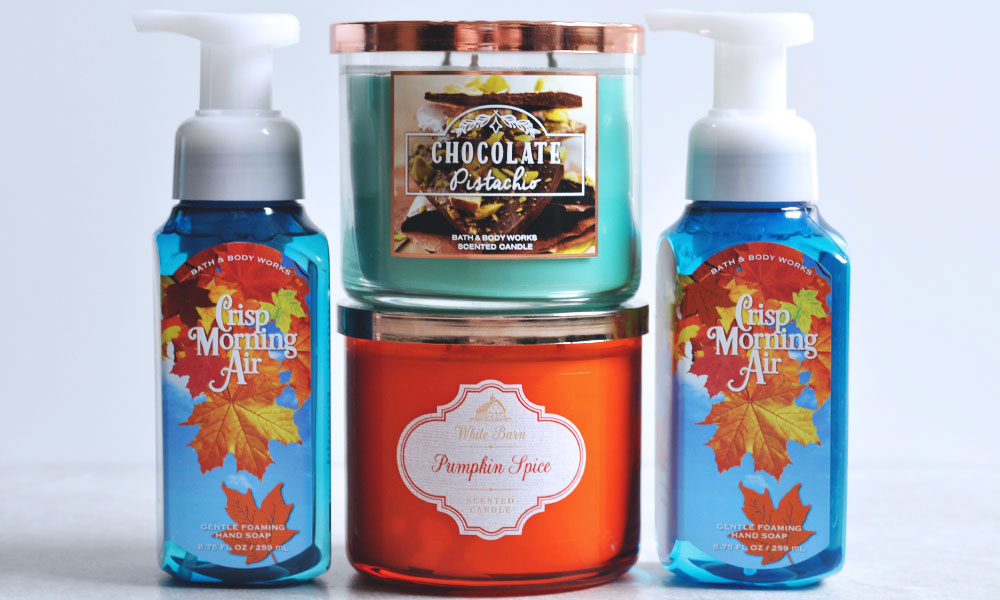 The following day when I realized that Bath & Body Works had a 2/$24 sale, I rushed to the store because Chocolate Pistachio finally came in. I picked up one Pumpkin Spice (a repackage of Nutmeg & Spice) and one Chocolate Pistachio candle. Then, to use my $10 off $30 coupon, I grabbed two Crisp Morning Air soaps that were on sale for $3 each. This purchase came to $21 and with merchandise credit I didn't pay anything out of pocket!
On Saturday I made a trip to the closest White Barn which is an hour road trip.  There I grabbed a 3-wick of Pumpkin Pie and Pumpkin Banana Muffin. I was also lucky enough to find the Golden Autumn Day soap in-stock (which I have been wanting for the past month) and got the same deal. After using the rest of my merchandise credit I ended up paying $18 out of pocket – well worth the trip!
On our way back home we stopped at the Yankee Candle outlet in Wrentham, MA. I was itching to use the free large jar candle coupon with any $10 purchase. I couldn't believe my luck when I saw Tarte Tatin, Rhubarb Crumble, and Paradise Spice sitting on the shelves. I quickly snatched the rare finds up and picked out Sugar Flower as my freebie. This  haul amounted to just $28.
I'd say that I'm pretty stocked up for this upcoming season now, at least until Cider Lane is released! It was nice to get out of the terribly hot weather for a bit and do some retail therapy. Did you haul anything during this weekend's sales and are you excited for Fall? Share in the comments!